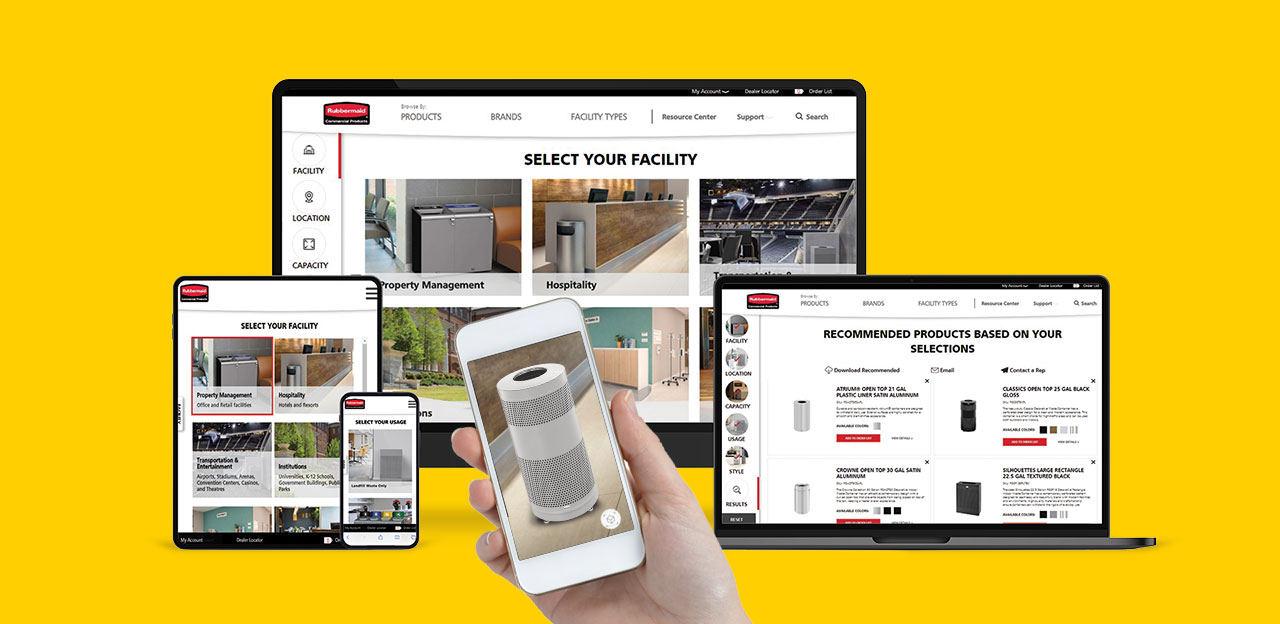 When you're looking to find that one right item that matches your interior space, your occupants' needs and environment; details matter. Additionally, if there are 100's of options to wade through the selection process can be really daunting. Essentially, there is a gap between the product catalog and the product in reality. To help Rubbermaid Commercial Products' dealers, distributors and customers; we realized new online tools to aid them in bridging this gap. The first enhancement is a product finder tool that asks simple questions based on their needs and offers a refined product list that match their requirements. Next, on the product detail pages we added a 3D model viewer with Augmented Reality capabilities to allow customers to see the product in their actual space.  
We're big on visualization here at The Scylla Group. Bridging the gap between viewing a product online and how it will look in reality does not come natural for most people. That's why we recommended RCP add AR models to their decorative refuse product line detail pages. For the first time, RCP's online visitors can now view select containers in full 3D and virtually in their actual space via Augmented Reality. We developed a backend 3D asset management system and a product detail page viewer that allows for enhanced 3D and augmented reality viewing. Products are delivered virtually in detail and at scale to get an idea for how the product will look in their space before buying. Models can be moved on the floor, rotated and walked around for a full immersive experience. This is the future of buying online — bridging the online and brick and mortar experience. 
How well does your site perform?
Take advantage of a free site assessment and consultation. Shoot us an email and let us know you're interested in a FREE consultation.