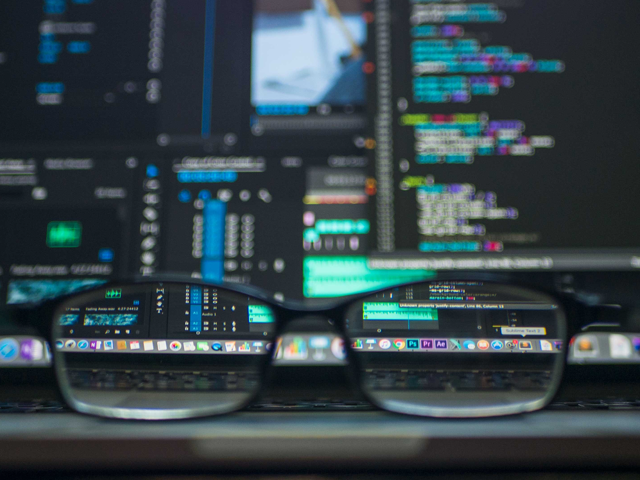 <
The business world has drastically evolved with the COVID 19 Pandemic altering how we interact with each other. With the rise of virtual presentations and different work environments, it is very difficult to limit distractions so you can focus on tasks.
Good news is that Windows 10 includes the Focus Assist (also called quiet hours) feature to help combat against distracting notifications and sounds. Below are the steps on how you can quickly toggle this feature on and off through the Windows 10 Action Center. When turned on, you can use the Priority Only or Alarms Only options. The Priority Only option will still provide notifications for applications that you have listed with a higher priority (steps below) where as Alarms  would only alert on Alarms configured in the Windows 10 "Alarms & Clocks" application.
Turn On or Off Focus Assist:
Select the action center  icon on the taskbar.
Select Focus assist to cycle through the available settings: either Priority Only, Alarms Only, or Off. (If you don't see the Focus assist tile, you may need to select Expand first.)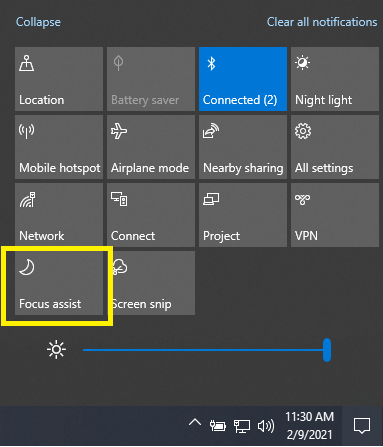 Edit Focus Assist Settings:
Follow these steps to configure Priority Only application settings as well as the Automatic Rules Settings.
Select the Windows start button (lower left) to open the start menu and type, "Focus Assist" to select the Focus Assist Option.

The settings window will open to Focus Assist. Here you are able to toggle on Focus Assist as well as customize your Priority List applications (highlighted in purple below) that you would want to be notified of when the feature is enabled. You also have the option of configuring this feature to automatically activate during a specified time window (highlighted in green below). Selecting the Automatic rules will allow you to adjust any of the settings. Finally, if you want to have a list of what you missed while this feature is on, you can choose the "Show me a summary of what I missed while focus assist was on" option (highlighted in yellow below).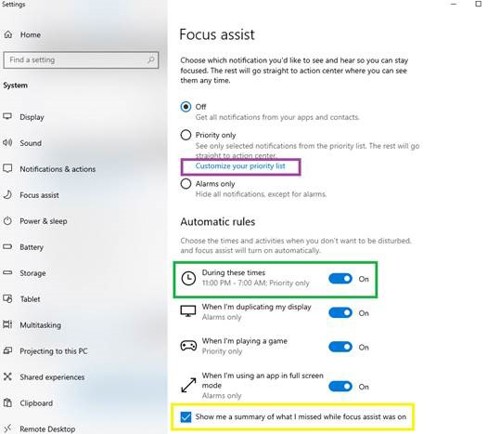 We understand many of you have encountered unique work environments since the pandemic and we hope that these tips and tricks help no matter where you are located.