The Horizon Interactive Awards, a leading international interactive media awards competition, has announced the 2015 award winners to highlight this year's "best of the best" in interactive media production.
The Scylla Group was recognized for their excellence with a GOLD award for the Rubbermaid Storage Planner in the Mobile Apps – Retail/Shopping category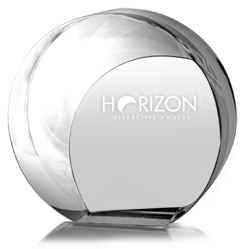 "We're proud to work with brands like Newell Rubbermaid that push the boundaries of digital and present us with challenges that lead to new ways for people to connect with brands. We are also very proud to be recognized by Horizon, among such innovative pioneers, for our contribution to the digital landscape."
Tim Howes, Creative Director, The Scylla Group

The 14th annual, international competition saw over 1100 entries from 21 countries around world including: Australia, Austria, Brazil, Belgium, Canada, China, Germany, Hong Kong, India, Martinique, Malaysia, New Zealand, Portugal, Russia, Serbia, Spain, South Korea, Sweden, Taiwan, Turkey, and the United Kingdom.

"The 2015 competition raised the bar for immersive, interactive experiences both online and offline. This year's competition again saw an emphasis on full screen, immersive user experiences coupled with fully responsive frameworks to allow consistency from desktop to tablet to mobile phones. Brands are finding new ways to connect with customers through multi–channel marketing while providing consistent messages. The stand–outs this year found a way to integrate the online interactive world with real–life scenarios and other offline traditional media. This highlights the power of digital communication and reflects that technology is a part of our lives at just about every turn. We continue to showcase digital media projects which strive for the best blend between top–notch creative imagery with clear, concise content, and well thought out user experiences."
Mike Sauce, FounderHorizon Interactive Awards
About The Scylla Group
The Scylla Group operates under two integrated business lines: Digital Marketing and IT Solutions. The Digital Marketing business line helps companies connect and build meaningful relationships with their customers, while the IT Solutions provides a stable and reliable infrastructure to support these communications both internally and externally– ensuring maximum impact and support. Learn more about our services.

About the Horizon Interactive Awards
In its 14th year, the Horizon Interactive Awards was created to recognize excellence in interactive media production worldwide. Since 2001, the competition has received tens of thousands of entries from many countries around the world and nearly all 50 US States. Each year, those entries are narrowed down to the "best of the best" to be recognized and promoted on an international stage for their excellence. The judging process involves a blend of the Horizon Interactive Awards advisory panel, an end user panel and an international panel of volunteer judges consisting of industry professionals. Winning entries have been dubbed the "best of the best" in the interactive media industry. For more information, visit www.horizoninteractiveawards.com.
Learn more about the winning application by clicking on the image below.