Sales team members are often asked by customers, "Why should I change to your product?" Often, this is a difficult question to answer and prove from  a financial standpoint. Sometimes "better" is not always "better" for the potential customer. In the case of Rubbermaid Commercial Products' Freshworks food storage product line, frankly the numbers speak for themselves. Marketing had done a great job of explaining the benefits and features of the product bins, but customers still needed that quantitative incentive that these products were worth investing in.
After discussions with the sales and brand activation teams, we were aware that an internal Excel-based cost calculator existed and was proving to be invaluable in bringing these numbers to light and convincing food preparation professionals to adopt the new bins. The RCP internal R&D department had proven research and experiments proving the science and clear benefits to saving produce and food products longer with the Freshworks bins. With such a great resource at their exposure, it was clear that this was a great selling point to include on the website for anyone contemplating new or upgraded equipment.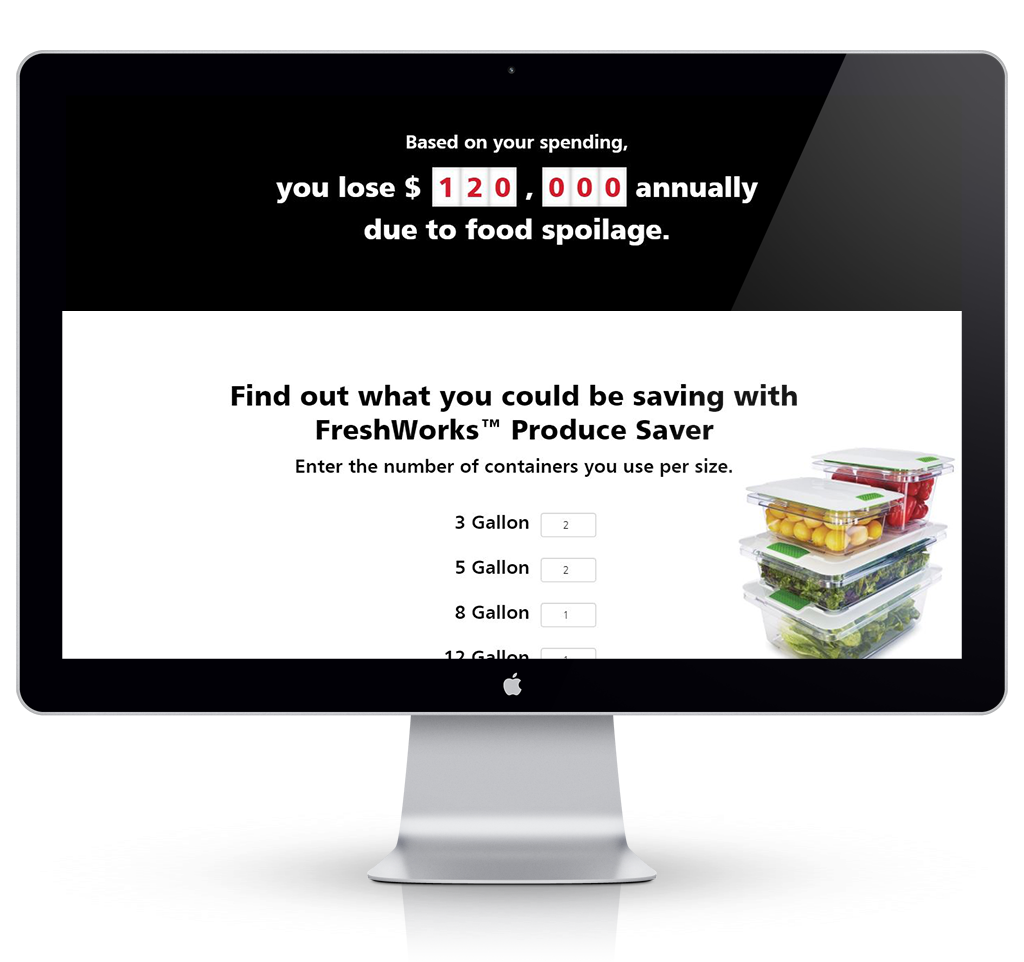 The brand engagement teams at RCP wanted to recreate this tool online and be sure that every visitor had access to these motivating numbers. Rather than re-creating the Excel experience as a simple online input tool with fields, The Scylla Group re-imagined the tool and created a unique visual experience that walks site visitors through their individual needs and presented not only how much waste they were producing, but an actual dollar value of what they could reclaim simply by switching out their food storage containers. The added benefit of an actual time frame to break-even on their initial investment helps hit home what they will be saving annually moving forward. 
Visitors can input basic numbers of expenditure to realize how much loss they have based on standard food storage bins.
Food waste based on competitive food containers shows how much each facility is wasting based on standard spoilage rates.
Inputs based on containers used per facility calculate how much produce and food can be saved compared to competitive containers.
Results of the ROI tool show annual savings and how long the initial investment will take to pay for itself. Sharing options including downloads and email encourage users to follow up on their findings.
Have an idea for a unique web app?
Take a look at our software application services, or shoot us an email and let's discuss your idea during a FREE consultation.